A Speaker's Guide for Preparing and Delivering an Effective Virtual Presentation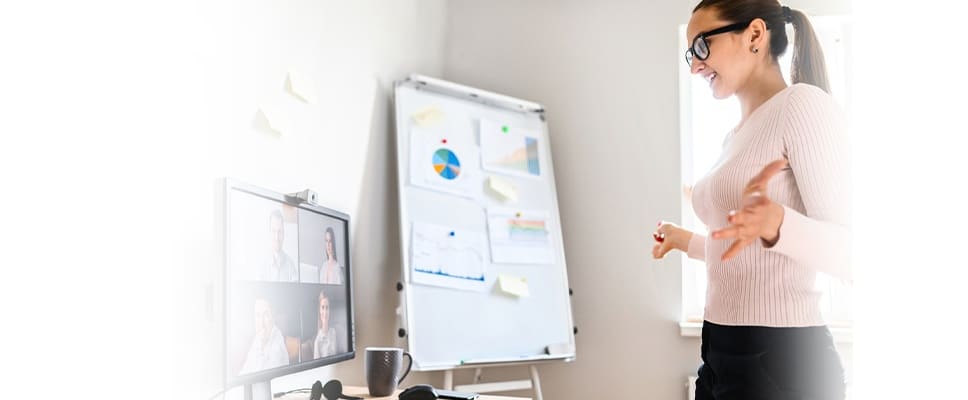 A Speaker's Guide for Preparing and Delivering an Effective Virtual Presentation
So you've been asked to give a presentation at a conference, except this year it's a virtual event. Perhaps you're wondering, what are some of the key differences between an in-person event and a virtual event? How should you prepare? Should your presentation be different in a virtual setting? What do you need to know about the platform where the event is hosted?
Don't worry! This guide will help you get started and prepare an effective and successful presentation that fits any type of virtual event. 
How to Prepare 
Know the delivery platform
You may be wondering, whatever platform is used for the virtual event, the differences will be minimal. Well, think again. Small differences in the platform functionality or design can throw you off. Have a clear idea what functions you are expected to know and control and how to quickly perform certain actions.
Ensure you understand how to:
Mute/unmute your microphone.
Turn on/off your camera.
Mute/unmute the audience.
Share/project your screen.
Post/control the presentation slideshow.
Know how to interact with the audience
Your audience has a big influence on how effective your presentation is. They are the ones who add energy, share comments, and answer questions. But in a virtual presentation, things might be a bit different. if you depend on audience feedback, consider how not hearing (and probably not seeing) your audience in a virtual event will affect your delivery. You can compensate for a lack of feedback by:
Being dynamic with your voice
Recording yourself presenting in the location and setup you'll use for the presentation to rehearse and to see where your tone and voice may be flat and in need of greater emphasis.
If you use humor (usually a good idea), choose material you're confident will strike the right tone you want and is relevant to the audience.
Put up a picture of an audience and imagine you're speaking to them.
If possible, have a moderator to assist you in monitoring the audience while you speak, collecting and organizing questions from the audience, and assisting in the overall technology and in minimizing distractions.
Control your presentation slideshow.
The Content and layout of your slideshow should follow the same guidelines you would use for in-person events including:
Simple and concise content is always better. 
Ensure your slides emphasize the most important points visibly. 
Add slide numbers with a total slide count (e.g. slide 1 of 25) for easy reference. 
Ask the event platform organizers to show you a typical view of what a participant sees during a presentation to adjust your presentation accordingly. 
Have a clear understanding of how your presentation slideshow will be controlled on the virtual event platform.
Avoid using wallpaper that is heavy in patterns or colors.
Polish your appearance.
Although there is a tendency to underdress for virtual events because you know you are likely to be in a small window in a corner of the participant's screen, you want to put on your best image. For professional and effective presenter appearance, try to:  
Wear neutral colors. Avoid clothing with stripes or plaids
Choose your location carefully. Avoid distracting backgrounds or places where people will pass around or where noises are expected. 
Natural lighting is your best bet. Choose lighting that is not too bright on your face or too bright from one side (leaving shadows) and certainly avoid lighting from behind.
Consider the echo in the room, if any, by recording your voice in the chosen location to see if it is clear. Also consider using an external microphone to give yourself better sound quality.
Consider using an external camera if the camera on your computer is not high quality.
Practice your presentation.
It is very important to practice your virtual presentation a few times and in the same manner and the same settings that you will use in the actual event. This will help you catch any issues and account for any variables. Make sure you: 
Use the same lighting, location, and equipment to ensure all is suitable.
If you are going to share your screen, practice this function as well any other technicality. 
Record yourself (video and audio) and review thoroughly at least once.
Don't move around too much to place yourself in the right mindset. It is recommended to stand if you have an external camera. Stay seated if not. Be mindful of your posture and your position facing the camera. 
Make eye contact by looking into the camera as if you are engaging with a live audience.
Have a backup plan.
It's probable that you or someone in the audience will face technical difficulties in a virtual event. So, you need to create a backup plan to make sure no one misses out on your presentation. You can do this by: 
Recording your presentation for later viewing. You can either record your live session and have it posted by the event organizers or have a previous recording available to post to YouTube or other service. 
If possible, have a call-in number or phone bridge available for someone to call in and listen by phone, if they face difficulty with the standard teleconferencing tool. 
When it's Time to Present
Get connected early. Don't wait until the last minute to ensure all your equipment works.
Greet your audience even if you can't see or hear them.
Give a clear overview of what you're going to present. Include some "heads up" such as; the estimated presentation time, activities, and the outcome or learning lessons from the session. 
If there is to be feedback from the audience, set the ground rules. Let them know when and how they can submit questions and how you'll answer 
Provide your contact information at the beginning and at the end. This way, you would aso share alternate methods for feedback and questions.
Inform your audience how they can view the session at a later time if needed.
Relax and have fun!